So, it's time for a new website and you're wondering how to choose a web design company?
This should be an exciting time for you and your business.
Whether you're dealing with an existing site that falls short representing your brand, or you're stuck with a well-past-prime non-responsive mess, choosing a web design company is an important project in itself.
Heck, maybe you're even new to the entrepreneurial game and you're thinking about building a company website for the first time.
Building a new website is important. It requires at least a brief understanding of what your options are and the many possibilities that exist.
It's also important to distinguish that web design doesn't always mean web development. We touch on that topic HERE.
For now, I am going to assume that part has already been figured out – most companies that design websites should have solution for web development.
If you're working with a freelance web designer, that isn't always the case…
I am also going to assume you've done a little bit of research on the web design and web development process.
Maybe you've even got a list of companies that you've engaged and are in the deciding phase.
Hopefully we're able to help you answer the question how to choose a web design company.
Your prospective web design company should know what the site is for.
As a web design company ourselves, the first thing that we need to know is what the purpose of the website is.
Even the most basic of web designers will want to understand this.
Websites have a lot of different purposes but as a general rule, all websites are going to at minimum, display basic information about a respective business.
While most industries could benefit from website features like custom contact forms, calendars, chat functionality and detailed product or service sections, they aren't critical to every websites basic needs.
Likewise, a small percentage of companies are selling things online through ecommerce.
For you as the client – make sure that those basic needs can be met by your prospective designer and they fully understand the purpose of your website.
Your web designer needs to be up-to-date on best practices
While a good designer shouldn't be overly pushy, you should want to work with someone who understands modern website capability and best practices.
We had a web client who launched a previous site in early 2015, after Google had announced "mobile-friendly" rankings boost for sites that were optimized for mobile.
Their newly designed website was not responsive.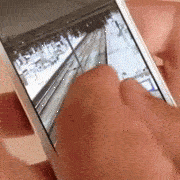 Working with a web design agency that kept up with such things, they could have maybe held out for another year or two with the older version.
The desktop design itself wasn't bad, it just looked terrible on a phone.
Your prospective web design company should be thoughtful
When you do run into an educated web design company it's equally important that you listen to their suggestions.
A couple things that can happen through this:
1. You might learn something that you wouldn't have otherwise – this could be about literally anything…
2. You might be inspired to employ one of their ideas in the future and your decision to make room for it later could save you thousands of dollars when you decide to pull the trigger.
3. You might actually save money or grow as a result of a suggestion that you decide to implement.
If they don't offer anything by way of ideas or insights and want to shove you in a box with their other bamboozled clients, look elsewhere.
Several years ago, we built a wine website in WordPress where the client requested that only a few wine varietals and a couple blends be included in their new build.
We implored them to consider utilizing custom post-types to make the process of adding additional wines in the future super easy.
They reluctantly went for it and it worked out really well!
It cost them a little more up front, but saved them big time in the long run.
We also trained them (also easy) on how to utilize the new system.
They were able to add wine varietals rapidly after their winemaker notes were completed and the wines displayed by category automatically.
Had they opted for only the few wines as individual or separate pages it would have taken a bunch of time and cost a lot of money to achieve the robust online collection of wines they displayed.
As an added benefit, they crushed (no pun intended) Walla Walla wine varietal search rankings (Not difficult to do in Walla Walla, but awesome nonetheless).
The worst thing that can happen is that your potential web designer goes through an exhaustive list of features and possibilities and you consider them all and say 'No.'
No sweat! Big Deal…
Will the site be difficult or expensive to maintain
If your web designer is building a custom WordPress site, that may cost more to maintain than if you were deploying a much less expensive existing theme.
If someone asked me one of the most important things in how to choose a web design company, transparency on site maintenance requirements might be near the top.
Your designer should be up front about this without prompting, especially if you're building a custom website.
Ask your designer how much you should expect to invest in future changes.
If you decided to add a new section, how much they'll charge.
If you needed a page removed, how much that will cost.
In addition to these, how much will the site cost on a monthly basis to just live on a server and receive traffic? Do you have hosting arranged or will they?
WordPress requires updates to PHP, plugins, themes and the platform itself. These happen constantly, every month.
Are these things that can be done internally, or is this something that will be part of an ongoing maintenance package?
Also, will they train you on how to use the site (if that is your arrangement)?
Consider how much the site will cost upfront, but compare evenly
Most people want to go right to upfront website cost as their lone litmus in choosing a web design company.
While I understand the logic, consider that fact that your website will have the ability to introduce your company to many more thousands of people daily, than you could personally of in a lifetime.
When comparing cost between design companies, also make sure that you are reviewing apples to apples and also comparing website features.
If one company is proposing a 100 page custom solution and another is proposing a 10 page retail theme with no functionality, you'll need to go back to the drawing board with one or both.
There are so many differences in websites that it's important to evaluate proposals on a feature-by-feature or page-by-page basis.
One way to do this, is to come to the table with a list of features and a list of pages that you want.
The more detail you provide web designers, the more accurate they can get their bid or estimate.
How long will the web design process take?
We've had websites take as little time as one month, to sites that take nearly 12 months to launch from the time we sign an agreement.
Large websites with lots of complexity and many pages can take a long time to build. Are you prepared for this and has the web designer been up front about their anticipated timeline?
As is often the case, clients can be responsible for as much as 75% of the timeline. This typically means that a client has opted to write content and furnish images.
Both great things that can save a lot of money up front, but it will fall somewhere on the priority list, and not always the top.
When figuring out how to choose a web design company, make sure you're clear with how long they expect to take designing.
There are tons of factors that go into this, but be realistic and compare timelines at your discretion and be reasonable.
What does the proposal look like?
Is there room for design modification or contingency work and is that important to you?
In reading through the proposal is everything clear or does it sound like a used car salesman and you need to have your lawyer review?
Last…
Review their work and ask for references or testimonials
Chances are good that there are websites out there just like the one you are requesting and your web project is well within the bounds of what is possible.
If you're working with an experienced web design company, they probably have performed work at least as complex as you are requesting.
They should be able to sneak you a peek at their previous work and a lot of clients are willing to provide references.
If something smells fishy, go a different direction.
If anything along the way sounds off or looks strange, our best recommendation is to run for the hills.
We may not have exhausted the list, but hopefully you have a little better grip on how to choose a web design company for your upcoming project.